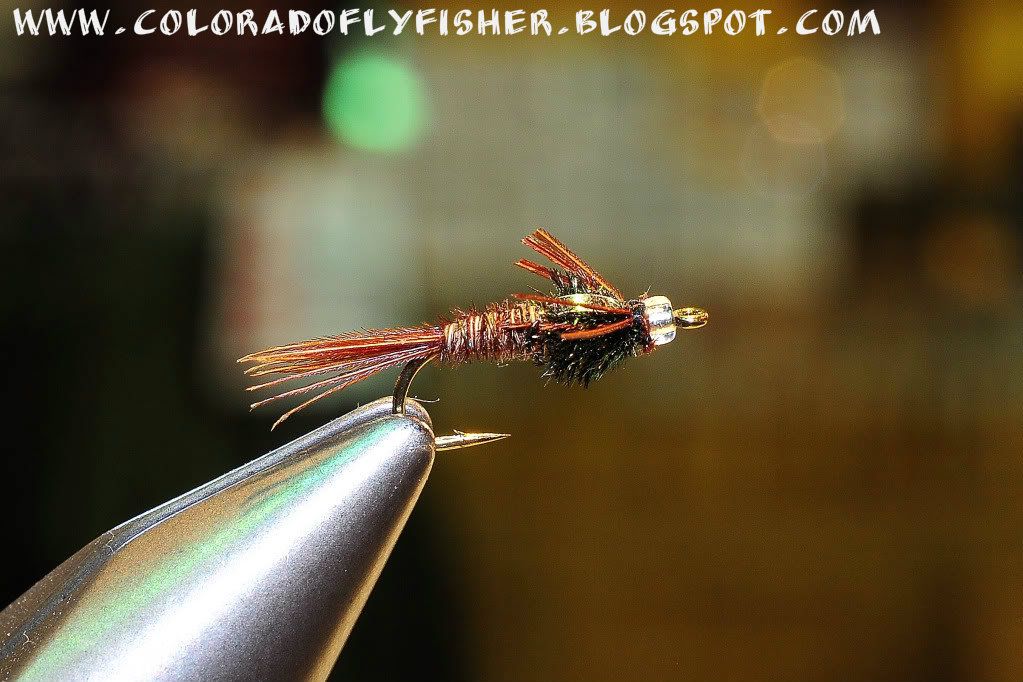 #7 The Pheasant Tail Nymph
The Pheasant Tail Nymph is another generic and yet iconic pattern (noticing a trend?) created by Frank Sawyer in the 1950's that slays fish on a regular basis. This nymph imitates anything from small Midge larvae to Yellow Sallie Stonefly nymphs and has spawned quite a few variations on a theme. It fishes great with several different styles of bead including the glass bead in the photograph. The clear glass bead head Pheasant Tail is called the Mercury Pheasant Tail and was a modification made by Pat Dorsey designed to give this pattern more flash and also imitate a trapped air bubble similar to what you would see on an emerging insect.
You can also tie or purchase these with a heavy tungsten bead and fish this pattern beneath a hopper or Elk Hair Caddis as part of a "hopper/dropper" system. The Pheasant Tail is a great representation of the Pale Morning Dun Mayfly nymph which is found in many of Colorado's rivers and small streams. If you are using this fly to match the P.M.D. hatch use sizes 18-20. Here is another look at a video I shot in 11mile canyon of a P.M.D. nymph to show you truly how close the Pheasant Tail comes to imitating this important food source for trout. My main reason for putting this fly above the Copper John on my list is simply because I have landed more fish with it.
Click to read No. 8
Click to read No. 9
Click to read No. 10
Thanks and tight lines!