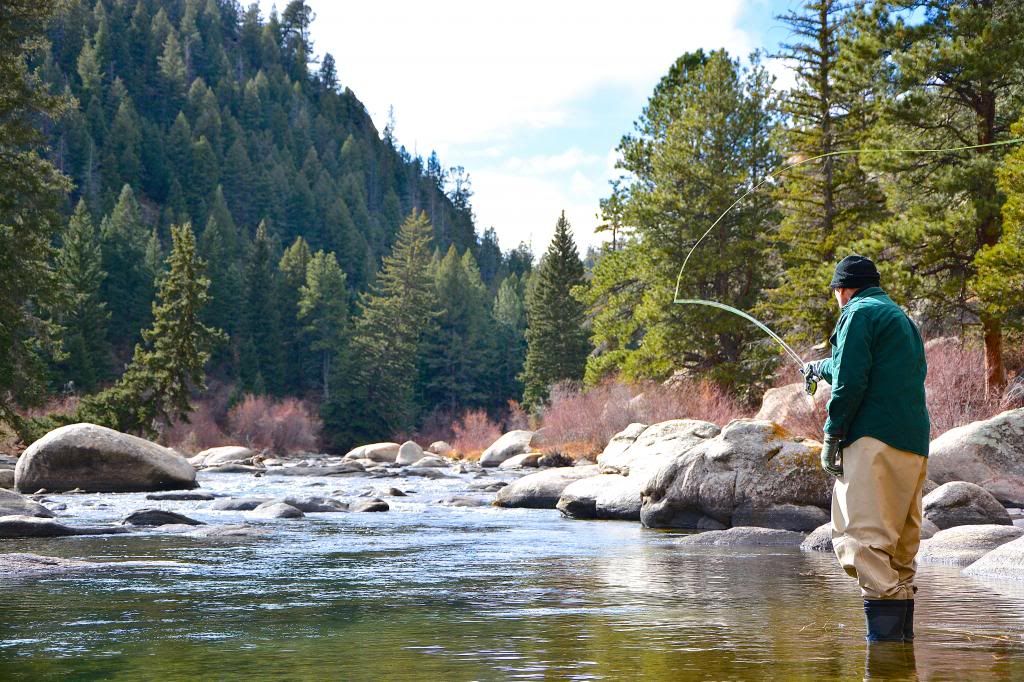 Photo of saturday's client in 11 Mile Canyon
11 Mile Canyon is fishing good. Flows have been hovering in the upper 30 c.f.s. mark, and the water is very clear. The brown trout spawn is over and fish have moved into their typical winter holding water. Deep pools with dark bottoms and a healthy flow of oxygenated water are your best bet. The midge hatch was sporadic, and those tiny bwos that were hatching strong two weeks ago starting around noon have slowed down as well.
Nymph fishing with a two fly rig under an indicator is a great way to go. Bring your 6x fluorocarbon, smaller split shot, and small nymphs. We used apricot colored pegged beads as our attractor, and size 22 Chocolate Mojo Midges or Top Secret Midges as our dropper. Ratio of fish to eat the pegged egg vs. the variety of midges we threw was 70/30. Even though the spawn appears to be pretty much over, the egg fooled most of our fish. Our two best fish were a skinny spawned out brown that had a ton of color, and a fat healthy 17-18 rainbow. Fish count for the day was 9 to the net, and at least that many long distance releases. Not to shabby for a cold windy day with someone who had never fished in Colorado!
To keep the fish porn, education, and honest fishing reports coming, please subscribe to our channel and "Like" our Facebook page. Tight Lines!