The family and I recently participated in the annual Anglers Covey family day at Rainbow Falls Mountain Trout and it was epic. Epic in the sense that there are monster fish that are eager takers all over the property. The property itself is massive and holds many lakes/large ponds that are either spring fed or fed by Trout Creek which fishes great on its own. For those of you that don't remember going to Rainbow Falls as a kid the park itself has been a fish hatchery as well as a place where you could pay for the fish you caught, and it was completely open to the public. The new owners have turned Rainbow Falls into a private fishing club and stocked it full of Rainbows and Browns over ten pounds, and a huge population of 16"-18" Donaldson Steelhead that will slam a streamer with reckless abandon.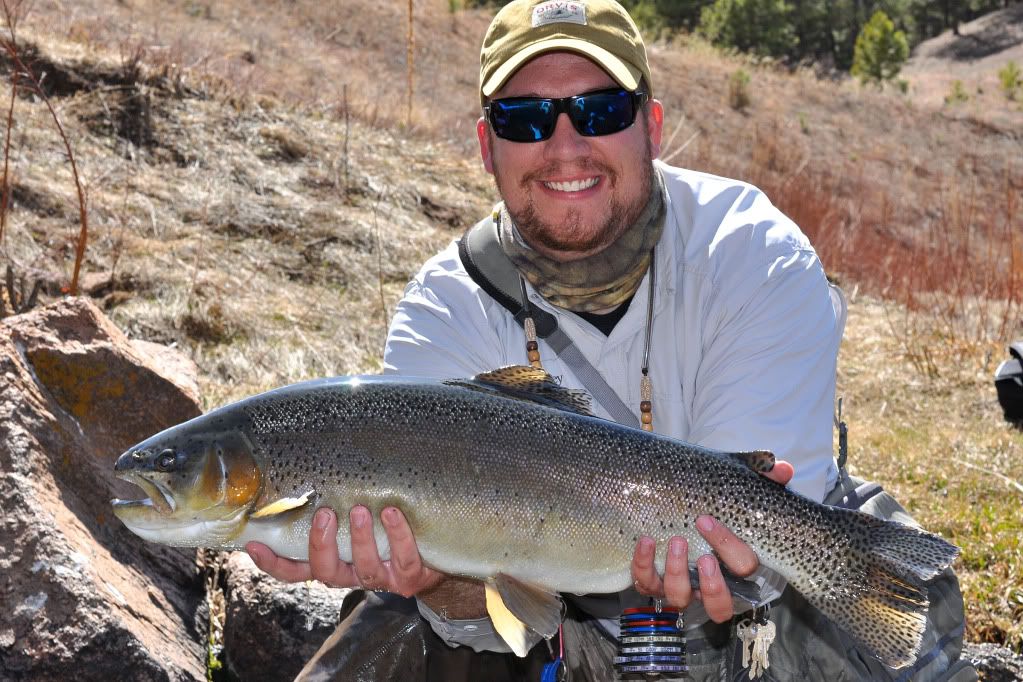 Monster bow I pulled out of stream small enough to jump across!
Photos like the one from our trip above are common in this place. If you are interested in hiring a guide or getting a membership at the "Falls" let me warn you that this is not a place you go to challenge your fishing abilities. It is about as opposite from technical fishing as it gets. In fact the only thing that will be getting challenged while fishing here is your arm strength. That is the beauty of fishing in a private club. You get a taste of what fishing must have been like when early settlers first came to Colorado. Anytime you are joking with fellow anglers about how your current fishing location is like wetting a line at the Denver aquarium it is a beautiful thing, and a nice reprieve from the crowds and highly pressured fish on the South Platte or Arkansas river below Pueblo.
Robert Younghanz, Dave Herber, and Dave Caraghar are just a few of the guides and volunteers that have helped turn Rainbow Falls into a modern mecca for catching big fish. In fact its obvious the moment you step foot on the property that you have come to a place where the people running it are passionate about its rich history and the history of Colorado, as well as flyfishing and conservation. For a quick rundown on the history of Rainbow Falls including a fun fact about General Palmer check out this
link
!
One of the many healthy rainbows Kristen and I released after battle.
The morning of our A.C. event and we were greeted with coffee and donuts at Camp, and a Bald Eagle soaring over a cliff on the far side of the property. Everyone was eager to fish so the conversations were kept short and the lakes near camp were already surrounded by anglers. After an hour and a half of fishing more trout were caught and released than could be counted. Que the massive bell ringing and we are all eating a lakeside lunch fit for kings. Everything cooked on an open grill, including chicken, veggies, and French Bread and it was amazing!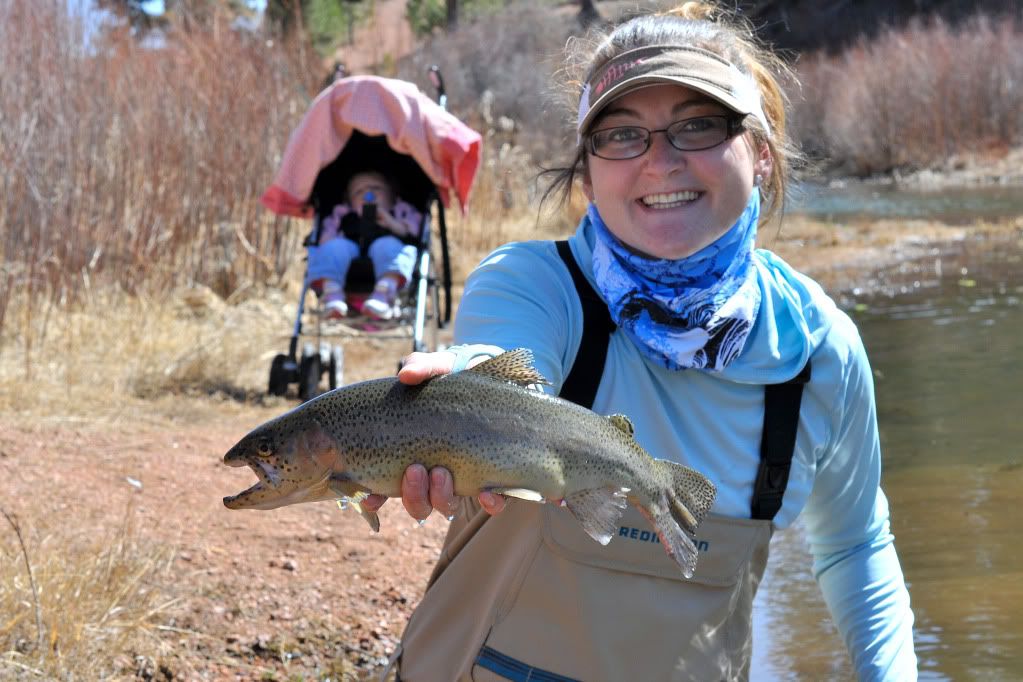 Kristen with a nice bow! and Bree taking a nap...
Kristen, Baby Bree, and I finished the day at the lower half of the property on Trout Creek where we landed so many fish it was ridiculous including that 26" Brutasaurous Rex! It's now late in the day and we are driving towards camp to thank Dave and the fellas for a wonderful trip and nobody was home. Guess they all had enough and left... The drive home is nothing like it is when your coming home from a good day on the water at Cheesman Canyon. A twenty fish day in Cheesman and the drive home feels like you have accomplished something. A day where you lose count at Rainbow Falls and you just feel content. I dare ask is there anything wrong with that?
For more information on fishing this amazing property check out
http://www.rainbowfallsmt.com
or to see rates and schedule a guided trip at the Falls
click
here. This is an experience any flyfisher should have at least once in a lifetime if you enjoy history, drop dead gorgeous scenery, and last but not least huge fish!
Tight Lines!
For more information or to schedule me for a guided trip shoot me an email at jonkleisflyfishing@yahoo.com