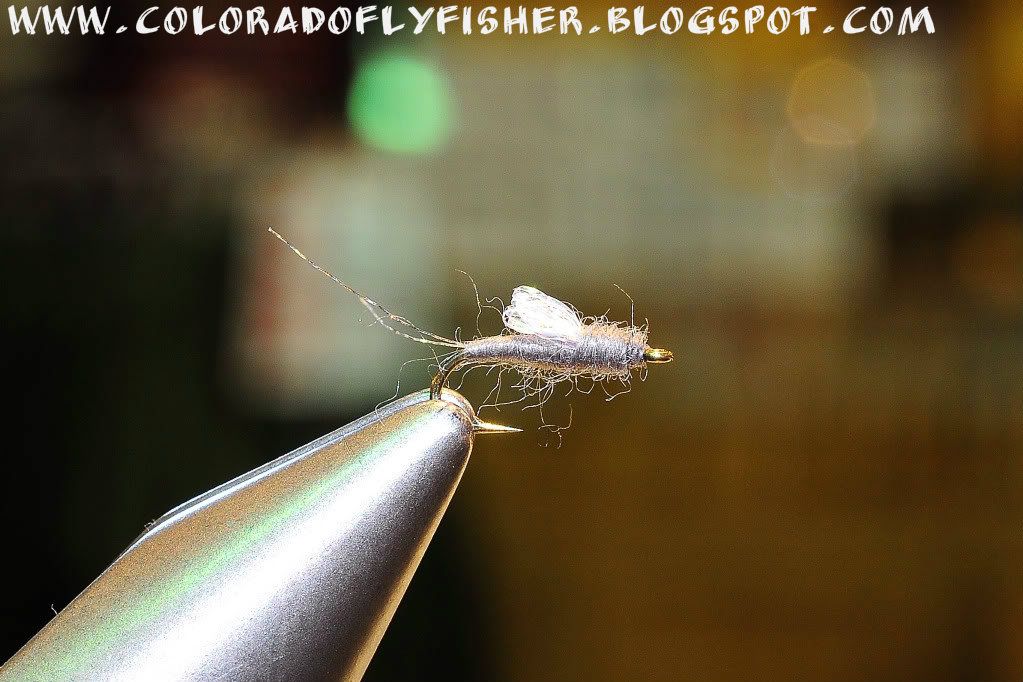 #2 The RS-2
The RS-2 was created by Colorado tyer Rim Chung and is another oldie but goodie that has spawned many variations on a theme. The name RS-2 stands for Rim Semblance number two. It is my understanding that he created it to imitate any kind of emerging insect but it best imitates a Blue Winged Olive mayfly emerger.
The above photo is of a variation of the RS-2 called a Sparkle Wing named appropriately for the flashy material used for the wing, and was redesigned by another great Colorado tyer Charlie Craven. Of course Pat Dorsey threw a clear glass bead on this one as well. The Mercury RS-2 is a great pattern to fish in faster pocket water during spring and late fall because of the extra flash given off by the bead. The Charlie Craven Sparkle Wing RS-2 is my favorite to fish in the film as the pattern was meant to be used. I guide and fish with light dun colored RS-2's in sizes 22-24 during spring, and olive in the same sizes in the late fall.
Click here to see No. 3
Click here to see No. 4
Click here to see No. 5
Click here to see No. 6
Click here to see No. 7
Click here to see No.8
Click here to see No. 9
Click here to see No. 10
Thanks and tight lines!