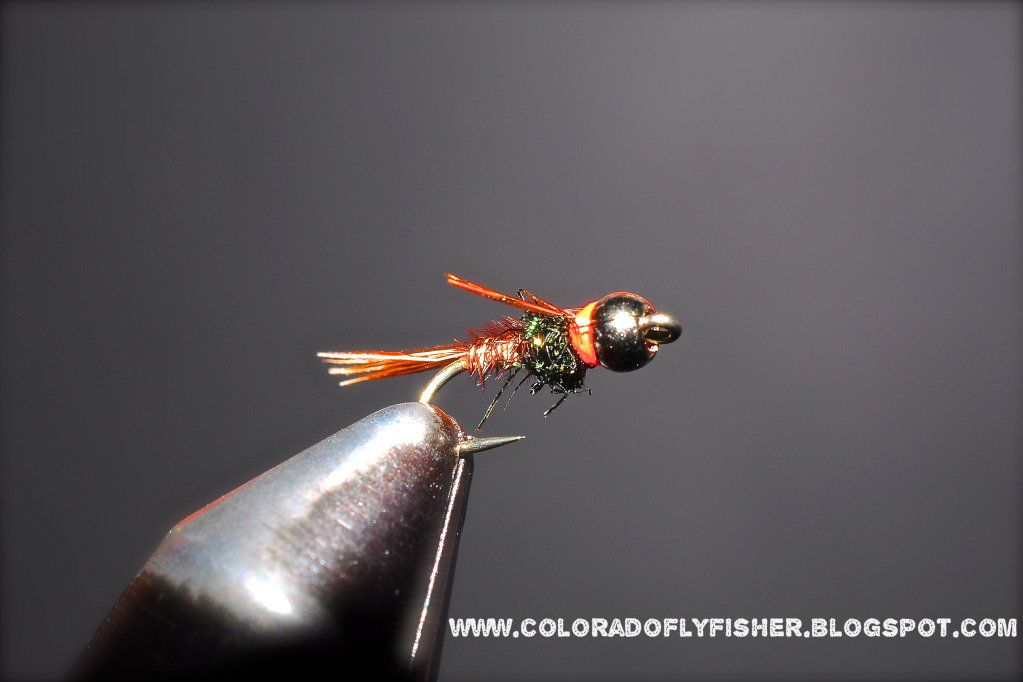 The Bead Head Flash Back Pheasant Tail nymph is a staple that just about anybody who has fished a nymph rig has in their box. The original Pheasant Tail was created by Frank Sawyer and was tied only using wire as a thread and pheasant tail fibers. Franks original has spawned many variations including the one I tied above since.
Hook: Orvis Big Eye
Bead: Spirit River Brass Nickel
Thread: UTC FL. Fire Orange
Wing Case: Lateral Scale Crystal Flash
Tail: Pheasant Tail Fibers
Abdomen: Pheasant Tail Fibers
Rib: Small Copper Wire
Thorax: Peacock Black Ice Dub
Legs: Pheasant Tail Fibers
Head Cement Finish: Sally Hansen Hard As Nails
The Pheasant Tail is one of those generic patterns that could be mistaken by a trout for just about anything depending on the size PT you are fishing and the time of year. The two hatches that I have seen on the South Platte and Arkansas River that this fly best imitates are the Pale Morning Dun nymph and the Yellow Sally Stonefly nymph. I can't even fathom the amount of Pheasant Tails the fish in our river systems see which is why I think it's important to give them different looks. Some people prefer Gold beads to Silver. Some prefer to use a red collar as apposed to the hot orange as shown above. Flash Back or no Flash Back, etc... They all catch fish! Here is a pretty cool Black and White video of Frank tying the original!