October 2nd was an amazing day on the Dream Stream! The morning started out the same as every other morning we go on our family fishing adventures. Dragging a cranky sleep deprived toddler out of bed way before sunrise, making several stops on our way up the pass due to a lack of preparedness the night before, and arriving to our select fishing location with an "anything can happen" mindset.
Today anything did happen... Namely this!
Rick and Kristen with a monster from the deep!
This is Rick Bayley with a ginormous, huge, Dream Stream fish-of-a-lifetime brown trout, and Kristen doing the honor of holding the net for the photo. A few months ago Rick and a buddy of his spent a day with me as their guide on the Dream Stream, and I told him then that their trip with me would be a brutal lesson in playing big fish, and it was... The pair lost several large fish that day, a few of which could have been in this same trophy class. I literally spent the entire day yelling, "Get that rod tip up!" Well, I think he learned his lesson.
Here's a photo of the fish he landed right before sore lipping his brutus that is similar to the fish they landed that fateful guide trip with me. A 16-18 inch fish like this is a great catch by anyone's standards.
But do the math...
It's such a cliche' thing to call a big fish a "fish-of-a-lifetime." To me every time you hook a fish, every fight, and every unique experience you have makes each fish the fish of a lifetime. However, some experiences are more unique than others, and Rick may never catch a trout that large on the Dream Stream or anywhere else again. Neither will 95 percent of the anglers that fish here. Safe to say it made today very special for him, and for our little family!
This fish was so big it startled Bree when Rick brought it over to her, and the look on her face says it all!
What started out as a Kokanee salmon expedition, turned into a memory that we will never forget. Proof that anything can happen -especially on the South Platte river in Park County. The irony being that I was telling a story this very morning about how I ran into Rick at 11 Mile Canyon during a guide trip with a set of different clients where Rick hooked a nice rainbow from across the stream on a dry fly, and was quick to point out how he was holding the rod tip up. The first time I've ever had a client from a previous trip show by example what they had learned from me to my current clients. Safe to say he had their attention... Also a very cool experience!
Today though Rick wasn't my client, he was our fishing partner and an honorary member of our troutbum family. I saw on facebook the day before that he would be heading up to the spot to catch some kokes, and since our family had this fishing trip planned for a few days we decided we would surprise him and beat him to the punch. We saw his car pull into the parking area soon after we arrived, and an hour later when he hadn't made an appearance I decided to look for him and extend an invite. Turns out he wasn't far, and he just didn't want to bother me in case I was with a client. Great etiquette from a great guy!
I returned his kindness by giving him some flies that were working for us, and introduced him to Kristen and Bree. The flies I handed him were apricot glow bugs that I tie on razor sharp, wide gapped, barbless competition hooks. First cast he hooked and landed his first Dream Stream Kokanee! Afterwards, we spent the morning taking turns and rotating into the spot the salmon seemed to be concentrated, landing several nice fish.
As the sun got higher the fish seemed to change their color preference from orange to red; a fact made obvious by the decent brown I lost, followed by the landing of a decent salmon on a red worm pattern I tie that friend and fellow guide Dave Caraghar has dubbed the "Kleistodon." A name he came up with because every time I refer to a huge fish I usually use dinosaur terminology. Troutosaurus Rex being my favorite and most obvious.
So I handed one to Rick to tie on and immediately afterward he was back into salmon. Despite the fact that I had jumped a 10 lb brown before it broke me off prior to inviting Rick up earlier in the morning, none of us expected what would happen next. He would land that first brown, and a few drifts later he hooked something that made a wake that only a fish that size can make, and I knew immediately what he had on.
I thought to myself that I should have grabbed the carp net, but it wasn't the time for those kind of thoughts! When you hook a fish like this time seems to stop and also move incomprehensibly fast. My guide instincts kick into high gear and I start shouting things like, "give it line if she takes off" and "be steady." Notice I didn't say keep the rod tip up?
To Rick's credit this was very much a team effort. I may have shown him how we were set up, and given him our flies to use, but he spotted the fish, fooled the fish, and was now playing the monster fish! He played it to perfection, managing to get it along the bank in calmer water right in position with me and the net. As I was approaching from down stream this giant fish, which Rick had only been playing for a couple of minutes, started doing massive violent head-shakes like a sleeping titan coming to life.
The timing couldn't have been more perfect because right as this was happening I scooped up the massive fish as Rick wisely let off a bit to allow the fish to settle towards me! Had the stars not aligned, and this fish had woken a few seconds sooner, Rick surely would have been in for the ride of his life, and this story could have had a very different ending. After a few quick photos and a release, we had time to calm down and I told Rick I couldn't help but feel like a proud papa! My only regret is that he didn't catch this fish while I was on the clock. Can you imagine the ransom these photos would have held?
Take a look at the rest of the photos from this trip!
Photo by Kristen
Tip up jk!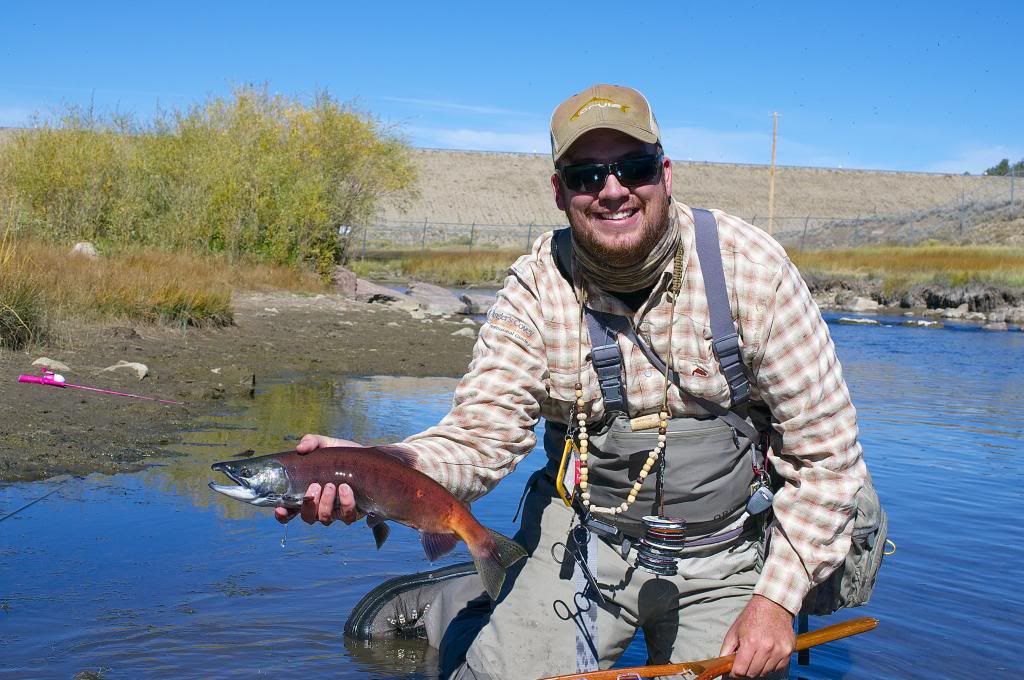 In case you smartasses were wondering yes I did land this fish with Bree's pink princess rod...





As always thank you everyone for following our site and for your support! For questions concerning guided trips with me this fall shoot me an email to jonkleisflyfishing@yahoo.com




Tight lines!